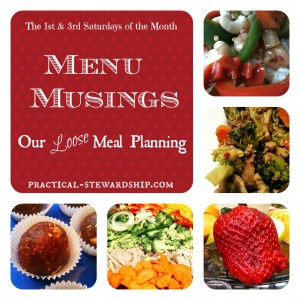 Our lives center around food.  We can't live without it, food is our fuel, and knowing what we are going to feed our families helps us eat healthier and more frugally in general.  I have had a loose unwritten menu plan throughout our marriage, and now I think the discipline of writing my plans down helps direct me, helps me think more clearly and helps me to be a bit less stressed in general, since I have thought through that part of my life.  It is also giving me accountability, posting my Menu Musings here on the blog.
Recapping the Last Two Weeks
I am glad to report that I prepared crock-pot steel cut oats twice in the last two weeks with leftovers for 2 and 3 days each time, which is a time and money saver.  It really is so much more frugal to eat less prepackaged cereal.  I calculated last year it costs about $0.27 for just the oats to make a breakfast that lasts two or three days for our whole family.  But that doesn't include the additional cost of honey, fruit or nuts.  That is such a great deal for two or three meals!
I made a double batch of pancakes and froze some on Martin Luther King Day, which gave me a quicker, healthier breakfast the following Saturday.  I made a separate batch for me that was dairy and egg free.  I made a quadruple batch of granola at the beginning of the two weeks and I still have a little left.  Yay!
I have sure enjoyed having all of these Crock-pot Roasted Lemon Chicken around!  If you love lemons, you ABSOLUTELY need to try this recipe!!  It flavored our Taquitos, Enchiladas, Crock-pot Enchilada Casserole, and soup so nicely.
I made a couple of different salad dressings, and I am still wanting to experiment before sharing.
And I only made soup twice in the last two weeks, so Jonathan was much happier.  I made a Crock-pot Chicken and Dumplings soup (post coming) and a ham soup with our leftover ham bone.  The ham bone flavors the broth so well you don't even need to add salt.  Amazing.  Really amazing.  In fact, the girls ask for more broth.
So for the next two weeks here are my plans.
BREAKFAST:
More Steel Cut Oats: frugal and fiber-filled, with fruit, nuts, cinnamon and honey.

I want to add smoothies or sorbets to our mornings a

couple of days a week.  We usually have smoothies at any time but the mornings, so today I made one in the morning for the first time.  I really am thinking I need have them more in the mornings to get more greens and fresh produce into our lifestyle.  I am still

really enjoying the sorbets.  Plus, I just heard on Dr. Oz that they can be easier to digest and good for the mornings, so I think it's a good idea.  I want to have my fruit washed and lined up the night before so the mornings go quicker and smoother.
For one of our Saturday morning specials, I want Waffles with 100% white whole wheat flour (it's all whole wheat flour) that I will modify for me without eggs and dairy and add those in for my family.  I'll double the recipe and freeze some for a breakfast later.
Homemade Granola and Commercial Cereals for the other days.  I only want to buy one commercial cereal a week and no more.  If we run out, I will be forced to feed the family something else.  Since making a quadruple batch of the granola sustained us over the two weeks + leftovers, I will definitely make a quadruple batch again.
LUNCH:
Fruit
Crock-pot yogurt for the family with honey and walnuts
Scrambled eggs with lots of veggies
Quesadillas
Nachos (my #1 go-to lunch meal) with my no-cheese cheese for me, and real cheese for the fam.  I coat them with organic greens and organic salsa.  Homemade salsa is something I will only make during tomato season, so I buy the Organic Salsa from Costco during the off-season.
Dinner leftovers like soups
DINNER:
I just bought my second two-pack of Costco Organic

Chickens, so tomorrow I will crock-pot them both infused with lemons.  Since we are having dinner guests I plan to serve one as a whole chicken, and then I want to shred some of the meat from the other to have chicken pasta dish with a spicy ginger sauce.  I will be sharing that recipe later in February.

I want to experiment with a Lentil Chili this week and hopefully that will last a few days.  I don't know if I will be making my easy crock-pot chili or white bean chili for Super Bowl Sunday.
When I was at Costco yesterday, the Vitamix rep made

an amazing Tortilla Soup, and he said I have the recipe in my Vitamix Recipe Book.  I want to compare it to my Trader Joe's Inspired Tortilla Soup and make one this next week.
I didn't get a chance to make sweet and sour chicken in the last couple of weeks and haven't done it in years, so it's time for some new flavors.
I also have never made an orange ginger chicken, so that sounds good too.  I know I have lots of chicken plans.  We didn't have any chicken from Thanksgiving until the New Year that I prepared that I can recall because of all of the turkey and ham treats we had, so it's chicken time.  I don't think we really ever get tired of chicken.
This is embarrassing but I bought dried pinto beans over a year ago intending to crock-pot and make refried beans, and I STILL haven't done it.  Since I am trying to cut our grocery bill (you can see what I spend here,) this is one of the best ways I can see to cut the budget and still get great nutrients.  I love making bean burritos out of refried beans, so I want to make some, and then freeze 1 or 2 cup-sized portions.  Bean burritos are just such a fast and easy dinner.  I like having them for a quick Sunday night dinner before church because they are so portable.

I will be making some homemade $0.61 sourdough bread at least a couple of times in the next two weeks.
We had a salad with almost every meal the last couple of weeks and plan to continue that trend.
SNACKS & DESSERT:
My friend Jolie and I just watched the movie Forks Over Knives this week (me for the second or third time and Jolie for the first time).  I was convicted on how many more vegetables we really should be eating, so I made a pizza hummus tonight to experiment for Super Bowl Sunday.  I ate it with some crackers and then some broccoli, and it became my dinner, it was so savory! 
I was foraging through my refrigerator earlier this week looking for some kind of dessert.  We had just finished the 3 Ingredient Peanut Butter Cups and 3 Ingredient Nut Clusters (these would make great Valentine gifts, by the way) I had made two weeks ago, and almond butter with apples sounded really good.  I then proceeded to add dark chocolate chips to the mix.  Yum!!  I had it for dessert the next day too, and then my kids wanted it for their afternoon snack today.  We stocked up on apples, so I think we'll be on an apple/nut butter/chocolate kick for a few weeks.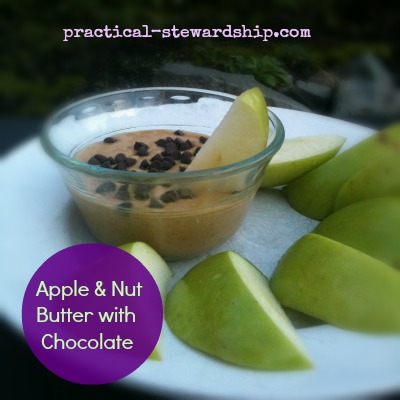 We try to eat 90%+ whole foods (and I like even more).  As I want to make that at least 50% of that vegetables (I don't know where we are, may be 30%??), I still love my desserts!  We haven't had doughnuts in a while, and but I do have a

whole foods recipe for doughnuts and they are soaked, so they are even healthier: sourdough doughnuts (donuts).  It's time to make them again!  I usually bake one small pan and then keep the dough in the refrigerator to make easy access to freshly baked doughnuts.
Today I did make a triple batch of 3 Ingredient Peanut Butter Cups so I could have some to take to a party and to have others for us.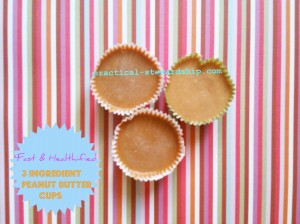 Do you menu plan?  What are you planning to make in the next couple of weeks?  I'd love to hear!!  See other menu plans here.
Do you need some other culinary inspiration?  Go here for the complete list of recipes.
We would love to hear from you!  Get free e-mail updates by subscribing here.  Follow us on Pinterest, Facebook and Twitter. "Moreover, it is required of stewards that they be found faithful" (1 Corinthians 4:2 ESV). Thanks for visiting!
Sonja