It's zucchini time, and with the harvest from the summer here, there is no better time than the present to make a Chocolate Zucchini Cake.

This Zucchini Cake happens to be dairy-free and egg-free, along with being made from 100% whole wheat flour.  But when you taste it, you wouldn't even know the difference!!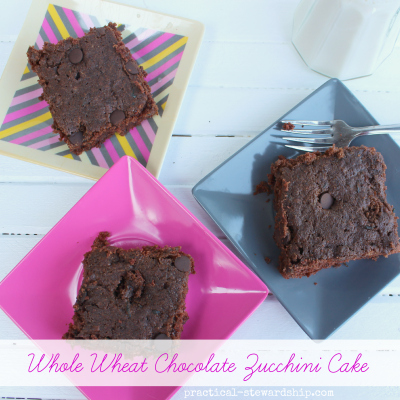 Now I usually like to make a recipe at least a few times before sharing it, but I couldn't wait to share this chocolate zucchini cake with you even though I've only made it once (I am sure that will change really soon).  And it's not just because it's zucchini season, but I wanted to share it pronto since this chocolate cake is so moist and tasty, and I simply can't get it out of my mind.  This is a strange thing because I don't consider myself a cake person, per se.  I'd much rather eat a brownie than a piece of cake, but I tell you, this cake is amazing!  But don't trust me; try it for yourself.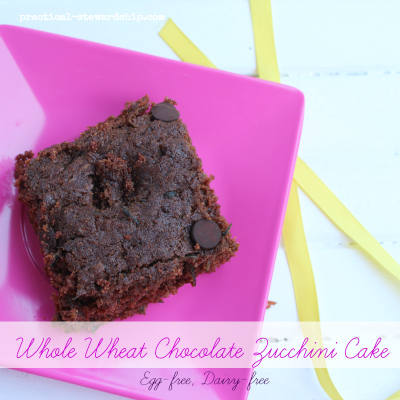 Seriously, with the abundance of zucchini in the last 4 days, not only have we made this chocolate zucchini cake, but we have also made Double Chocolate Yogurt Zucchini Bread that I adapted to be dairy-free, zucchini pizza that was gluten-free inspired by my neighbor, Roasted Zucchini and Vegetables, Chocolate Chip Oatmeal Zucchini Cookies, and Zucchini Meatballs, and last week we made a healthified zucchini bread.  Plus we still have more zucchini left.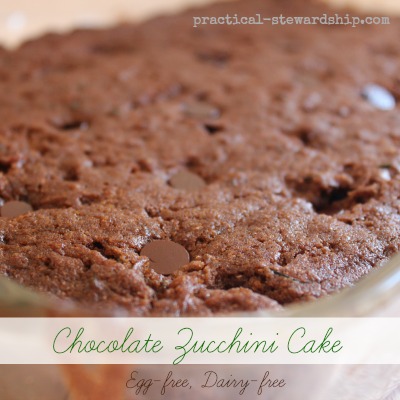 Anyone else in the same boat and swimming in zucchini?  I need to freeze some of the zucchini in 2 cup portions so the zucchini will be easy to thaw for all of these fun recipes. And I still want to try zucchini brownies.  Honestly, I love having the abundance.  I find that it gives me purpose as to what I cook and bake, and it gives me the need be creative with meals or suffer from boredom along with wasting precious God-given abundance.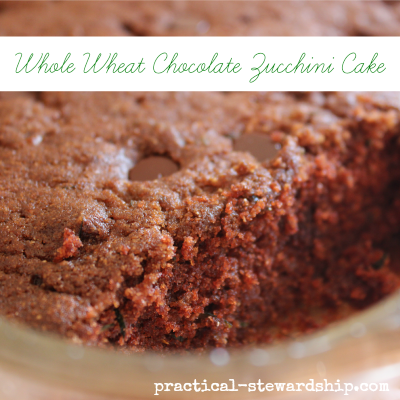 So grab some coffee or your favorite kind of milk and ice cream, and enjoy a piece of some Whole Wheat Chocolate Zucchini Cake.  It's so good, it doesn't even need frosting.  Seriously! This recipe is adapted from Posed Perfection. Updated 8/14.
Whole Wheat Chocolate Zucchini Cake, Dairy-free, Egg-free
Ingredients
1 cup coconut oil
1 3/4 cup organic sugar
1 t vanilla
1/2 cup almond milk with 1 T of lemon juice to sour the almond milk
2 1/2 cups whole wheat flour
4 T cocoa powder
1/2 t baking powder
1 t baking soda
1/2 t salt
1/2 t cinnamon
1/2 t cloves
2 cups, shredded zucchini (the larger the flakes, the more coconut-like it seems)
optional, 1/2 cup chocolate chips
optional, 1/2 cup chopped pecans
Instructions
Preheat oven to 350 degrees.
Grease and flour a 9x13 inch pan.
Cream coconut oil and organic sugar in a medium mixing bowl.
Add vanilla and soured almond milk.
Combine all dry ingredients together in a separate bowl: flour, cocoa, baking powder, baking soda, salt, cinnamon, and cloves.
Add the coconut oil mixture to the dry ingredients.
Add zucchini, and stir until just combined.
Pour cake batter into prepared pan.
If adding the chocolate chips and pecans, sprinkle evenly over the top.
Bake for 40-45 minutes or until toothpick inserted comes out clean.
Store in an airtight container for up to three days.
Go here for more zucchini recipe ideas.

THIS POST MAY CONTAIN AFFILIATE LINKS THAT COST YOU NO MORE MONEY, BUT SUPPORT OUR BLOGGING EFFORTS. THANK YOU!