When I put together my first 12 Crazy Crock-pot Recipes-Part 1 post a year ago, I actually had more recipes to add, but had limited myself to 12. So with the end of the year rapidly approaching, I thought it would be an appropriate time to post 13 more Crazy Crock-pot Recipes. And all 13 crazy crock-pot recipes are egg-free, and dairy-free whole food recipes.
Crock-pot exists to make our lives easier, and everyone I know can be benefited by the use of a crock-pot in their household.  In fact our household has 3 crock-pots that I use multiple times a week (a 2, 4.5, and a 6 quart), and we have a couple of other crock-pots (a 7 quart and a little dipper) that I use on occasion. I have been know to have 2 or 3 crock-pots filled and going at the same time (broth here, yogurt, beans, and granola there…). Crock-pots are nice to make traditional foods like soups, roasts, and stews, but did you know crock-pots can do so much more?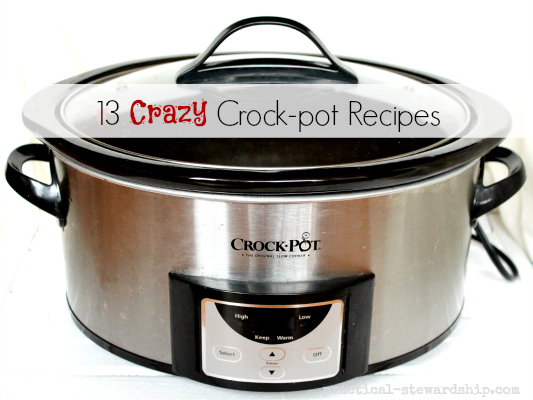 I dug up 13 of my favorite non-conventional crock-pot recipes.
And to start us off, crock-pot "baked" potatoes. If you are having a big group of people over the crock-pot is great for making big batches of "baked" potatoes. You don't even need to use foil. Throw together a little potato bar, and you are good to go for small and big crowds alike.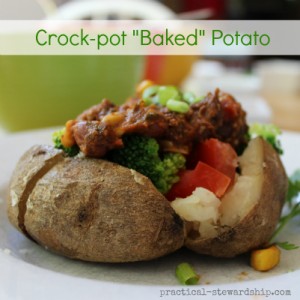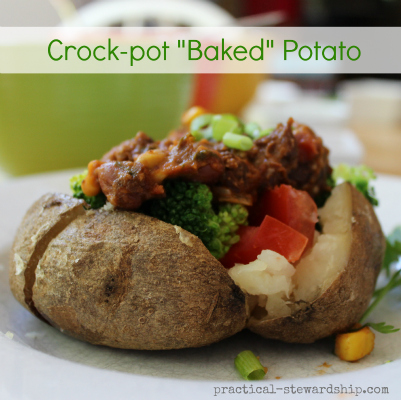 "Baked" Potatoes in the Crock-pot
Seriously, this is the easiest way I know to make blackberry jam!  In the crock-pot!  No stress, no boiling.  Just put the jam in the jars when you are ready.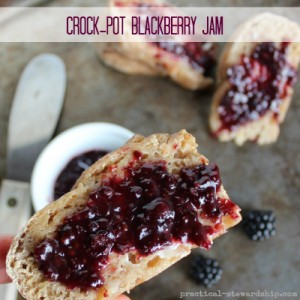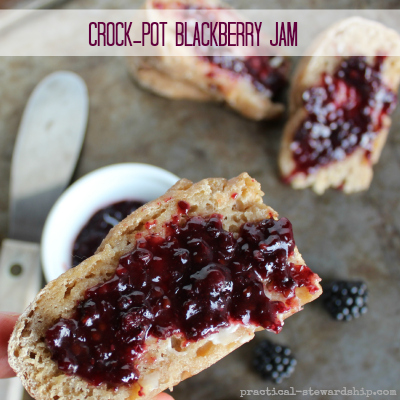 Crock-pot Blackberry Jam Naturally Thickened
I worked and worked to come up with some kind of Monkey Bread recipe that would work in the crock-pot overnight.  There isn't anything like waking up to a warm breakfast, right.  And the work is already done!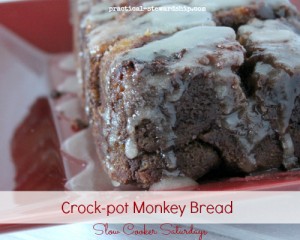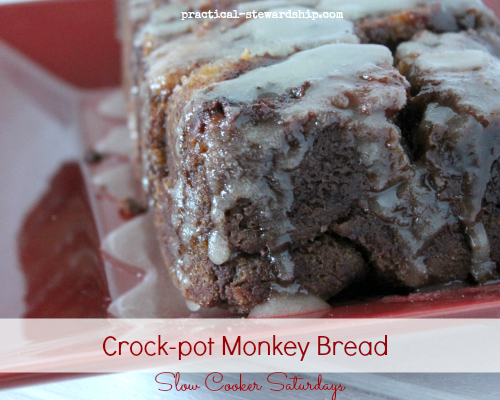 Overnight Crock-pot Monkey Bread with an Oven Baked Option
Being a fan of easy mornings, we have also enjoyed this Overnight Crock-pot Breakfast Cobbler.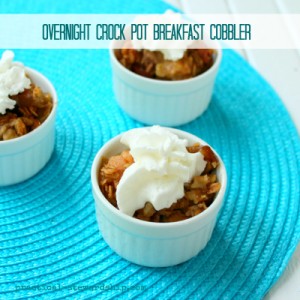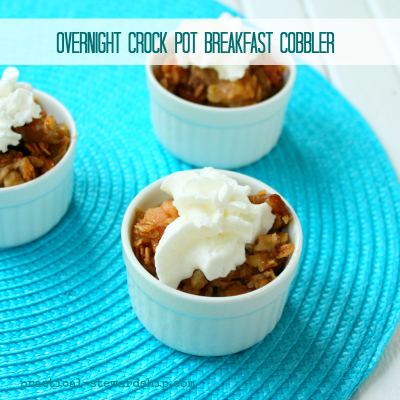 Overnight Crock-pot Breakfast Cobbler
For my last crazy crock-pot breakfast idea I make crock-pot granola. We try to keep this continually stocked throughout the year. For an oat-less low carb crock-pot granola, go here.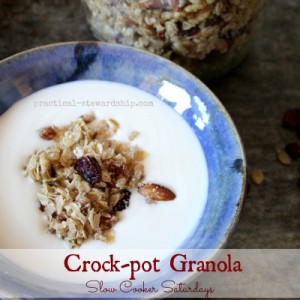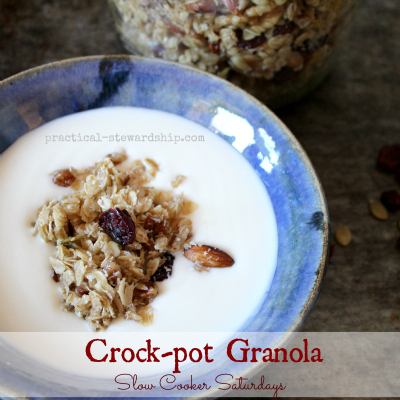 Do you need a butter alternative?  You can actually roast garlic in the crock-pot alone or alongside of another dish you are making or alone.  And when they are done, you can spread them on your rolls like budda, I mean, butter.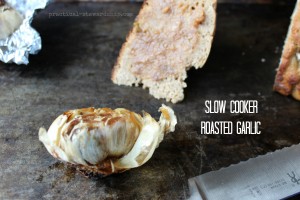 Roasted Garlic in the Crock-pot or Not
If you've been a follower of our blog for a length of time, you may know that chips and salsa/taco salads are my absolute favorite for lunches. They are so quick to put together and full of flavor. I determined earlier this year that I would try crock-pot salsa. I made and froze several batches and intend to do this every year.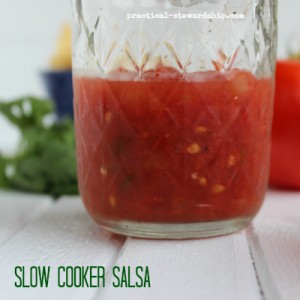 Slow Cooker Salsa
During the holiday shopping season, I know it was nice to prepare my crock-pot tetrazzini and then go catch some sales, and get a Christmas tree.  So nice to come home to a cooked meal!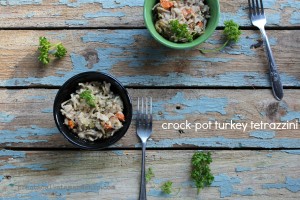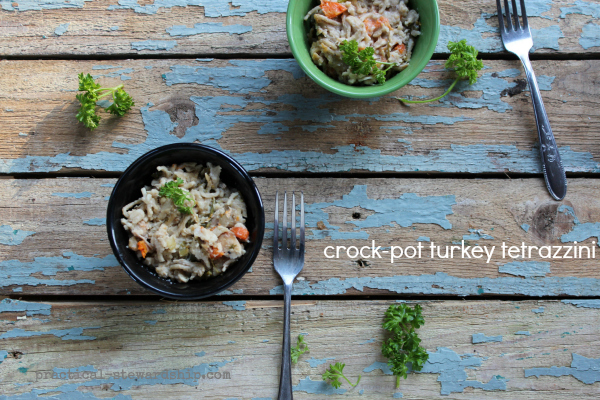 Crock-pot Turkey or Chicken Tetrazzini
And during the holidays to free up oven space, there's nothing better than using the slow cooker to make stuffing.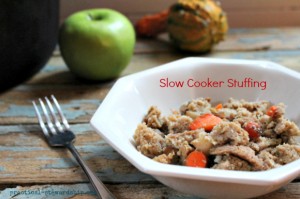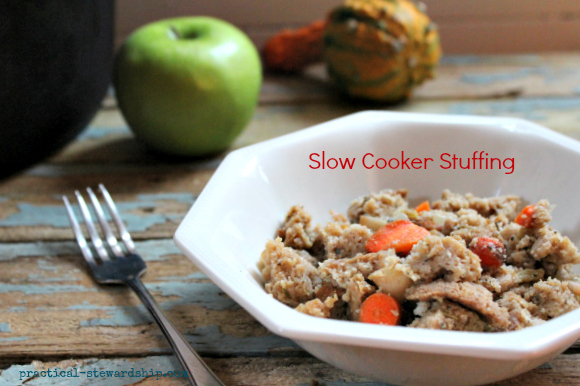 Crock-pot Stuffing or Dressing, Dairy-Free, Egg-Free
Once in awhile we'll throw dessert in the crock-pot before we eat dinner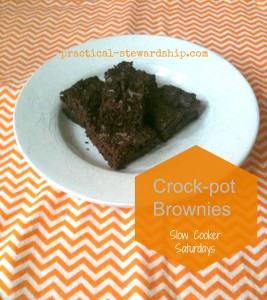 Crock-pot Brownies, Oven Option, Gluten-Free, Grain-Free, Egg-Free Option
Crock-pot caramelized onions are a wonderful addition to burgers, and mashed potatoes, along with contributing bold flavors and textures to a green salad.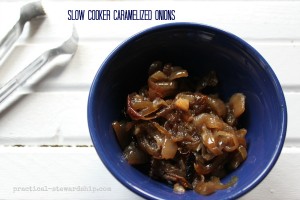 How to Slice an Onion & Crock-pot Caramelized Onions
I almost never make my rice on the stovetop anymore. The rice stays moist and the crock-pot is easier to clean than a rice-caked pan. I just start the rice about 2 1/2 hours before I need it.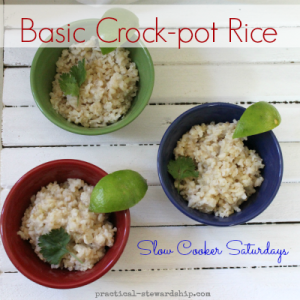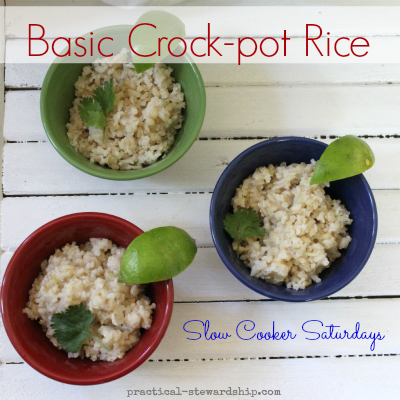 When making pumpkin purée for pumpkin pies, pumpkin bread, and the like, I don't know an easier way to process big batches of pumpkin.  After the pumpkin cooks, you just stir (which is a lot like making crock-pot applesauce, by the way). If you don't want to use a blender, you don't have to. If you are looking for pumpkin inspiration, here are 12 Pumpkin Recipes.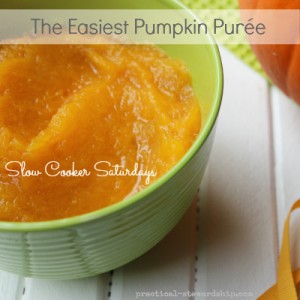 What are some crazy foods you make in the crock-pot?
For more crock-pot ideas, check out my Cookin' with the Crock-pot Board on Pinterest.
Follow Sonja Sarr (practical-stewardship.com)'s board Cookin' w/the Crock-pot on Pinterest. Have you seen the first 12 Crazy Crock-pot Ideas?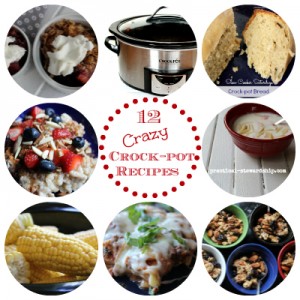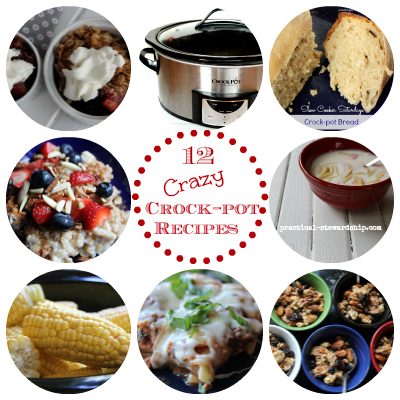 Or 10 Crock-pot Freezer Meals for $5.64 each:
Sharing @ Titus 2sdays, Metamorphosis Monday, Homestead Barn Hop, Sew Darn Crafty, Slow Cooker Saturdays, Super Saturday, Link Party Palooza, SNS, Weekend Potluck, From the Farm Friday, Fight Back Friday, Frugal Days, Sustainable Ways, The Party Bunch,Pennywise Platter Thursday, Simple Lives Thursday,All Things Thursday, Real Food Wednesday, Allergy-Free Wednesday, Wow Us Wednesday, WFMW, Welcome Home Wednesday, Talent Show Tuesday, OPAAT, Tip Me Tuesday, Slightly Indulgent Tuesdays, Fat Tuesday.